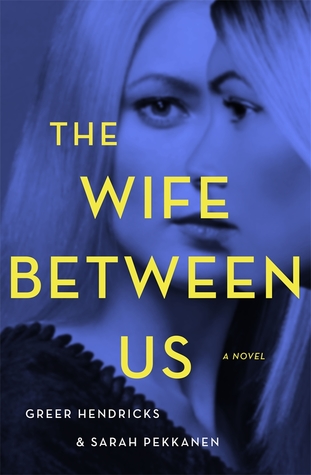 WHOA!!!
What did I just read?
I like to think of myself as a mystery thriller sleuth who's able to see the ending of most mystery novels a good mile and a half away. Well, Greer Hendricks and co author Sarah Pekkanen put my detective skills to the test with
The Wife Between Us
and I'm reeling at how they were able to get me. You clever, clever women...
The Wife Between
us already suggests on the blurb that the title is misleading and you probably should hang up any ideas you may have and just sit down and enjoy the ride. What an interesting, confusing, and thrilling ride it is.
It's extremely important not to give anything away here so I'll make this review brief. We're introduced to a voice, or two, and are presented information little by little and it's all important info. These bits of story assist in keeping the reader off kilter. One voice is a narrative that doesn't feel very reliable. There's obviously something wrong with this woman and learning her story kept me glued to the pages.
Hendricks-Pekkanen weaved an intricate, complicated story that compels any who dare to think they know where the story is leading, to essentially give it a go and read
The Wife Between Us>. The strongest character development is obviously shared via the woman's voice who narrates her piece of the story yet I still felt very much familiar with the other moving pieces.

The Wife Between Us will have many wanting to re-read where they think they may have gotten tripped up in the unraveling of the plot. Luckily, I'm very good at using the highlighting function on my Kindle so... anyway...

Just read this one. Those who love psychological, mystery thrillers with a hint of chick-lit will love this novel. It's the story of how no one, or anything is as it seems. ****

Copy provided by St. Martin's press via Netgalley